Jobsite's Rocks! IX: It's the End of the World As We Know It
8pm doors, 9pm show
Sat., Dec. 1, 2012
Single Tickets: $8 at the door
New World Brewery, Ybor City
Calendar / Tickets
Support Jobsite
Season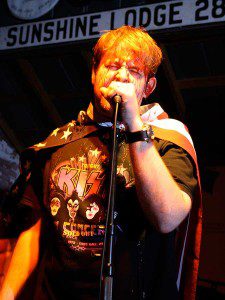 Jobsite is closing out the year with their traditional evening of bands, raffles, friends and fun with Jobsite Rocks! XI: It's the End of the World As We Know It. This year, features a new twist: karaoke! Also, Jobsite and New World are partnering on this toy drive to benefit Metropolitan Ministries.
Jobsite Rocks! events are the 14-year old company's signature combination of season wrap party and end of the year fundraiser, which unites Tampa's various creative scenes and a crowd from all walks of life who enjoy a great night of music and fun in New World's lush beer garden setting.
"This isn't a frou-frou stuffy champagne-sippin' black-tie function," Producing Artistic Director David M. Jenkins comments. "It's a rock-out, fun party that also happens to benefit a precious cultural and community resource in Tampa Bay."
This year's event features music from Poetry N Lotion, TYPES (featuring Scott Harrell) and Karaoke Jockey Extraordinaire, Stevan Polansky.
Apart from the great bands, the other major draw of Jobsite Rocks! is the raffle, where a wild assortment of prizes donated by Bay area business are given away to lucky winners.
Admission is a minimum donation of $8 at the door, but Jobsite urges attendees to give what they can as every penny benefits the theater directly. Receipts for personal or tax purposes will be available as Jobsite is a 501 (c)(3) tax-exempt not-for-profit organization and gifts to Jobsite are full tax-deductible to the extent provided by law. Interested parties may also sign up at the event to become an official donor; information on levels and benefits of giving will be available.
New World Brewery
New World Brewery is tucked away in a sleepy corner of Ybor City and features dozens of import and microbrew beer on draft, and dozens more in the bottle, all in a lush beer garden setting. New World Brewery is located at 1313 8th Ave. E and is a 21+ establishment.
Raffle Prizes & Silent Auction
Another core part of any Jobsite Rocks event is the raffle, where we offer a wild assortment of prizes donated by all manner of Bay area business.
Raffles will take place live from the stage throughout the evening, and raffle tickets are $2 each, six for $10 or 13 for $20.
Can't Make It?
All donations are tax deductible to the extent provided by law. Jobsite will also offer receipts to anyone requesting them for their records at the event.
Share: