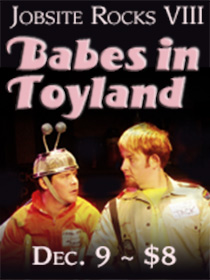 Jobsite is closing out the year with their traditional evening of bands, raffles, friends and fun with Jobsite Rocks! VIII: Babes in Toyland. This year, however, features a new twist: bring a new, unwrapped toy and New World will buy you a draft beer! Jobsite and New World are partnering on this toy drive to benefit Metropolitan Ministries.
Jobsite Rocks! events are the 13-year old company's signature combination of season wrap party and end of the year fundraiser, which unites Tampa's various creative scenes and a crowd from all walks of life who enjoy a great night of music and fun in New World's lush beer garden setting.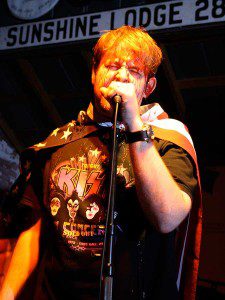 "This isn't a frou-frou stuffy champagne-sippin' black-tie function," Producing Artistic Director David M. Jenkins comments. "It's a rock-out, fun party that also happens to benefit a precious cultural and community resource in Tampa Bay."
This year's event features music from 8 Kinds of Thunder, Poetry 'n Lotion (who recently collaborated with Jobsite members on the Rocky Horror Lotion Show) as well as The Vodkanauts (who have played every Jobsite Rocks! event).
Apart from the great bands, the other major draw of Jobsite Rocks! is the raffle, where a wild assortment of prizes donated by Bay area business are given away to lucky winners. This year's loot includes prizes from the Don Cesar, Skipper's Smokehouse, Design1 Jewelers, Tampa Theatre and of course the traditional (and highly coveted) gift baskets o' booze donated by The Hub. In addition, there are many gift certificates to local restaraunts and other local businesses from massages to yoga.
Admission is a minimum donation of $8 at the door, but Jobsite urges attendees to give what they can as every penny benefits the theater directly. Receipts for personal or tax purposes will be available as Jobsite is a 501 (c)(3) tax-exempt not-for-profit organization and gifts to Jobsite are full tax-deductible to the extent provided by law. Interested parties may also sign up at the event to become an official donor; information on levels and benefits of giving will be available.
New World Brewery
New World Brewery is tucked away in a sleepy corner of Ybor City and features dozens of import and microbrew beer on draft, and dozens more in the bottle, all in a lush beer garden setting. New World Brewery is located at 1313 8th Ave. E and is a 21+ establishment.
Raffle Prizes & Silent Auction
Another core part of any Jobsite Rocks event is the raffle, where we offer a wild assortment of prizes donated by all manner of Bay area business.
Raffles will take place live from the stage throughout the evening, and raffle tickets are $2 each, six for $10 or 13 for $20.
Here's a list so far of our raffle prizes. Plus there's more in the works, so watch this space!
Jai Dee Yoga Gift Certificate
The Refinery Gift Basket
Independent Gift Basket
Sherry's Yesterdaze Gift Certificate
Belleair Country Club Gift Certificate
Don Cesar Gift Certificate
Skippers Smokehouse Gift Certificate
Hub Gift Basket
Tampa Theatre Gift Basket
Jewelry from Design One Jewelers
Tampa Repertory Theatre Tickets
freeFall Theatre Tickets (will pick up)
Jobsite Theater tickets and merchandise
About the Music
This year's event features music from 8 Kinds of Thunder, Poetry N Lotion, and The Vodkanauts (who have played every single Jobsite Rocks event).
The Vodkanauts
Imagine a twilight world of sonic make believe where Dean Martin and Neil Diamond share equal billing with Danny Gatton and Hank Marvin, where reverb-drenched surf freakouts segue into a small jazzy combo playing a Vegas nightspot frequented by The In Crowd and where roadhouse-rockin' twangfests coexist with tranquil atmospheric meditations. It is in this musical parallel universe that surf/lounge/rock 'n' roll combo The Vodkanauts work their magic, simultaneously paying respectful tribute to musical masters while creating a soundtrack to a mid-to-late 20th century America that never quite was … but should have been. They have shared bills with national acts the likes of Dick Dale, Big Bad Voodoo Daddy and The Mermen.
The Vodkanauts' continuing mission expands the band's repertoire to include rhythm 'n' blues, jazz and other roots-informed genres while still encompassing the surf classics, lounge numbers and original compositions that cemented the band's reputation as one of Tampa Bay's most engaging live acts.
Poetry N' Lotion
Julie Garisto of TBT said of Poetry N' Lotion that "You wouldn't normally associate the words fusion or free-form with old-fashioned or rustic, but that's the charm of Poetry N' Lotion, whose songs can include anything from rock to jazz to metal and yet sound like something you'd crank from a Victrola." The quartet consists of guitar, bass, horn and drums and they've been known to rock originals alongside covers as diverse as the theme songs from The Munsters to Joy Division's "Love Will Tear Us Apart." P 'n L just performed the entire soundtrack to The Rocky Horror Picture Show this Halloween, featuring a few Jobsiteers as singers.
8 Kinds of Thunder
Named for a cherished Native American belief, or maybe just something Shawn said once, 8 Kinds of Thunder reunites the last-days lineup of beloved St. Pete bar-rock act Nessie. Scott, Joey and Joe are back for a one-shot exploration of everything Nessie wasn't, from brooding New Wave-tinged evocations to garage-pop, arena rock and beyond.
Can't Make It?
All donations are tax deductible to the extent provided by law. Jobsite will also offer receipts to anyone requesting them for their records at the event.
Share: