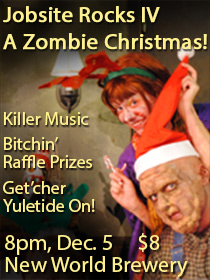 Jobsite is closing out the year with another bang-up evening of bands, raffles, friends and fun at New World Brewery with Jobsite Rocks VI: A Zombie Christmas.
Jobsite Rocks events have become Jobsite's signature combination of a season wrap party and main fundraiser for the 11-year old company, uniting Tampa's theater, music and art scenes with patrons from all walks of life in New World's lush beer garden setting.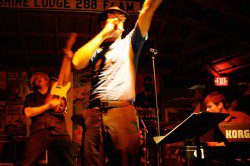 "These aren't stuffy champagne-sipping black-tie functions," Producing Artistic Director David M. Jenkins comments. "These are rock-out, fun parties that benefit a precious community resource in Tampa Bay."
This year's event features live music as well as the annual Jobby Awards, which will be given away from the stage that night.
Also, Jobsite has some special surprise treats in store along the way.
Night of the Living Dead zombie wrangler (and Jobsite Rocks fundraising chair) Christen Petitt Hailey will be joined by her undead minions to sell raffle tickets, and she will also co-host the evening from stage with David M. Jenkins.
Admission is a minimum donation of $8 at the door, but Jobsite urges attendees to give what they can as every penny benefits the theater directly. Receipts for personal or tax purposes will be available as Jobsite is a 501 (c)(3) tax-exempt not-for-profit organization and gifts to Jobsite are full tax-deductible to the extent provided by law. Interested parties may also sign up at the event to become an official donor; information on levels and benefits of giving will be available.
New World Brewery
New World Brewery is tucked away in a sleepy corner of Ybor City and features dozens of import and microbrew beer on draft, and dozens more in the bottle, all in a lush beer garden setting. New World Brewery is located at 1313 8th Ave. E and is a 21+ establishment.
Raffle Prizes & Silent Auction
Another core part of any Jobsite Rocks event is the raffle, where a wild assortment of prizes donated by Bay area business are given away to lucky winners.
Here's a list of what we have so far for the raffle. Plus there's more in the works, so watch this space!
A MAC cosmetics gift basket
Jewelry donated by Design 1 Jewelers
A Belleair Country Club golf package
Jobsite season tickets
Gift certificates from local eateries
A gift basket from Tampa Theatre
The traditional (and typically most coveted) gift baskets from The Hub
Raffles will take place live from the stage throughout the evening, and raffle tickets are $2 each, six for $10 or 13 for $20.
About the Music
This year's event features music from King of Spain, The Bird Street Players, The Vodkanauts and Zero Time Ghosts.
The Vodkanauts
Imagine a twilight world of sonic make believe where Dean Martin and Neil Diamond share equal billing with Danny Gatton and Hank Marvin, where reverb-drenched surf freakouts segue into a small jazzy combo playing a Vegas nightspot frequented by The In Crowd and where roadhouse-rockin' twangfests coexist with tranquil atmospheric meditations. It is in this musical parallel universe that surf/lounge/rock 'n' roll combo The Vodkanauts work their magic, simultaneously paying respectful tribute to musical masters while creating a soundtrack to a mid-to-late 20th century America that never quite was … but should have been. They have shared bills with national acts the likes of Dick Dale, Big Bad Voodoo Daddy and The Mermen.
The Vodkanauts' continuing mission expands the band's repertoire to include rhythm 'n' blues, jazz and other roots-informed genres while still encompassing the surf classics, lounge numbers and original compositions that cemented the band's reputation as one of Tampa Bay's most engaging live acts.
Can't Make It?
All donations are tax deductible to the extent provided by law. Jobsite will also offer receipts to anyone requesting them for their records at the event.
Share: