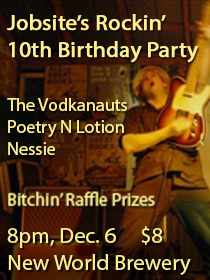 In August, Jobsite finished their 2007–08 season on top with new box office records and by landing 48% more season ticket holders for the 2008–09 season. They capped off the year by earning an Urban Excellence Award from the Downtown Tampa Partnership and by being accepted as a member theater of Theatre Communications Group. So far this season, they've already had successful runs of two shows – Blackbird and The History of the Devil.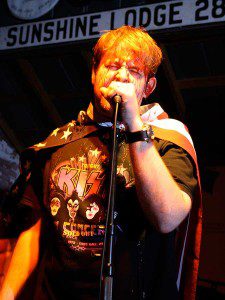 Now it's time to party, and to hopefully raise some money for the new year and beyond.
The Jobsite Rocks events have become Jobsite's signature combination of a season wrap party and fundraiser, uniting Tampa's theater, music and art scenes with an up and coming crowd all in New World Brewery's lush beer garden setting.
"This isn't some stuffy champagne-sipping black-tie function," adds Jenkins. "This is always a rock-out party for a great cause."
This year's event kicks off at 8 pm with the 2nd annual Jobby Awards, a half-serious and half tongue-in-cheek set of awards voted on by the Jobsite board, patrons and their ensemble.
The Jobby ceremony is followed by live music from three live bands: surf rock and lounge crooners The Vodkanauts (who have played every previous Jobsite Rocks event), the always fun and always ecletic Poetry N' Lotion and Bay area alt-rockers Nessie.
Jobsite invites everyone to come by, even if for just an hour. This is our one major, yearly fundraiser, and they would love to have your support that night. It's also important for Jobsite to see their patrons, artists and sponsors out socially so that they can say hello, shake hands and thank them for all they do all year.
New World Brewery
New World Brewery is tucked away in a sleepy corner of Ybor City and features dozens of import and microbrew beer on draft, and dozens more in the bottle, all in a lush beer garden setting. New World Brewery is located at 1313 8th Ave. E and is a 21+ establishment.
Raffle Prizes & Silent Auction
Another core part of any Jobsite Rocks event is the raffle, where a wild assortment of prizes donated by Bay area business are given away to lucky winners.
Here's a list of what we have so far for the raffle. Plus there's more in the works, so watch this space!
2 tickets to Mandy Patinkin at TBPAC plus dinner at Maestro's Restaurant
$50 gift certificate to Tina Tapas
2 Stageworks Theatre Season Passes
Busch Gardens basket, $20 Ceviche gift card and $45 Carabba's gift card
Dinner for 2 at Tampa Club ($100 value)
$90 Carabba's gift card
Kabloom Gift Certificate and Miniature Xmas Tree arrangement
3 The Hub gift baskets
Handmade Earrings donated by Design 1 Jewelers
Handmade Peacock Bag by Katrina Stevenson
Golf for 4 at Avila Golf and Country Club
Women in Tourism/First Priority Transportation Surprise Pack
$90 Carabba's gift card
4 AMC Movie Passes and 2 Florida Aquarium Passes
Tampa Theater gift basket – including a Tampa Theater membership
A bottle of Pendleton Whiskey and 2 Tampa Club shirts
2 Channelside IMAX Movie Passes and 4 Florida Aquarium Passes
Jobsite gift pack including 2 tix to all remaining 0809 shows ($250 value)
Tampa Theater gift basket – including a Tampa Theater membership
Tampa Bay Lightning Hockey Stick autographed by Martin St. Louis
Tampa Bay Buccaneers tickets, 12/21 vs SD Chargers
Tampa Bay Rays gift basket
2 night DELUXE stay at the Hard Rock Casino & $250 at the Council Oak Restaurant
Raffles will take place live from the stage throughout the evening, and raffle tickets are $2 each, six for $10 or 13 for $20.
About the Music
The Vodkanauts
Imagine a twilight world of sonic make believe where Dean Martin and Neil Diamond share equal billing with Danny Gatton and Hank Marvin, where reverb-drenched surf freakouts segue into a small jazzy combo playing a Vegas nightspot frequented by The In Crowd and where roadhouse-rockin' twangfests coexist with tranquil atmospheric meditations. It is in this musical parallel universe that surf/lounge/rock 'n' roll combo The Vodkanauts work their magic, simultaneously paying respectful tribute to musical masters while creating a soundtrack to a mid-to-late 20th century America that never quite was … but should have been. They have shared bills with national acts the likes of Dick Dale, Big Bad Voodoo Daddy and The Mermen.
The Vodkanauts' continuing mission expands the band's repertoire to include rhythm 'n' blues, jazz and other roots-informed genres while still encompassing the surf classics, lounge numbers and original compositions that cemented the band's reputation as one of Tampa Bay's most engaging live acts.
Poetry N' Lotion
Julie Garisto of TBT said of Poetry N' Lotion that "You wouldn't normally associate the words fusion or free-form with old-fashioned or rustic, but that's the charm of Poetry N' Lotion, whose songs can include anything from rock to jazz to metal and yet sound like something you'd crank from a Victrola." The quartet consists of an electric mandolin, upright bass, guitar and drums and they've been known to rock originals alongside covers as diverse as the theme songs from The Munsters or M*A*S*H to Joy Division's "Love Will Tear Us Apart."
Nessie
Nessie happened when Ravis (also known to several as writer/critic/occasional bad drunk Scott Harrell) got sick of the local-band grind. So
Ravis figured he'd take a break, write a bunch of new crap and work on a record with Joey Cocktail. And not, under any circumstances, play out. That lasted exactly four weeks, and one six-month stint as guitarist for St. Pete groove-rock juggernaut St. Felons – and he was already doing solo shows as Nessie when he bailed on the Felons.
Over the next year, Nessie evolved from an eclectic acoustic solo project to something that's sort of a band with an ever-changing lineup (featuring members of such well-loved Bay area acts as St. Felons, Urbane Cowboys, Pagan Saints, Red Skyline and others) and a sound that careens from dynamic, spaced-out indie-pop to hooky, overdriven stomp 'n' roll.
Can't Make It?
All donations are tax deductible to the extent provided by law. Jobsite will also offer receipts to anyone requesting them for their records at the event.
Share: