Seminal punk-pop Tampa legends Joe Popp will headline Jobsite's 5th annual summer fundraiser, Jobsite Rocks Again! at Ybor City's New World Brewery at 6pm, Sat., Aug. 27. Cover is a minimum donation of $8 at the door, and the bands start at 9pm.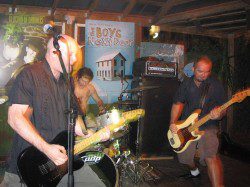 Jobsite Rocks Again! – their biggest fundraiser of the year – is also a celebration of the band Joe Popp's tenth anniversary and their first appearance since the Jobsite Rocks! fundraiser in 2003. Jobsite Rocks Again! will also feature St. Pete punk band, Car Bomb Driver.
The early hours of the fundraiser will feature food, a gallery of all things Jobsite and a chance for the public to hang out with the Jobsite board and ensemble members in a relaxed social setting. One of the most popular Jobsite summer fundraiser items is the raffle, which will have hourly drawings. Raffle prizes include a gift basket from The Hub, a gift certificate to Franklin St. Sushi, Jobsite season tickets, a gift certificate to Fuma Bella and more. Raffle tickets are 3 for $5.
Jobsite is hoping that having both an early "mellow" shift and the later "rockin'" shift will allow a greater diversity of their audience to attend and support the company. Jobsite hopes to raise $3,000, up from nearly $2,000 at Jobsite Rocks! Jenkins hopes that "people will come by, even if for an hour, to support the company. This is our one big chance a year to refill the coffers, and we need a lot of help. We'd also really like to see our patrons socially so that we can introduce ourselves, shake their hands and say thanks."
New World Brewery
New World Brewery is tucked away in a sleepy corner of Ybor City and features dozens of import and microbrew beer on draft, and dozens more in the bottle, all in a lush beer garden setting. New World Brewery is located at 1313 8th Ave. E and is a 21+ establishment.
Jobsite & Joe Popp
Jobsite and Joe Popp have a history together almost as old as Jobsite itself. In the spring of 1999, Jobsite Artistic Director David Jenkins was cast in Popp's rock musical adaptation of Whirligig that played TBPAC's Jaeb Theater. In the same year, Popp wrote a 15-minute rock opera, JY2K, for Jobsite's first original work production.
Popp and Jobsite have since collaborated many times with Popp covering "Sympathy for the Devil" for The History of the Devil, arranging a version of Billy Joel's "Summer, Highland Falls" for subUrbia, and creating a video and accompanying cover of "The Kindness of Strangers" featured in Murder Ballads: A Tribute to Nick Cave and the Bad Seeds. In 2002, Jobsite premiered the full-length original Joe Popp musical – MAXWELL.
Joe Popp founded the eponymous band in 1995, featuring drummer Jeff Wood and bassist Martin Rice. The band's first show, only a few weeks after forming, was a sold out Jannus Landing opening for the Toadies. They were very well received and quickly whipped out their first CD – Complex Machine. Recorded in three short days, it received excellent reviews and led to eight Florida Jammy Award nominations. The next two years would be a whirlwind, as the band put out another CD – Bruiser, sold out shows, and backed it up with fast driving punk-fueled pop. They have opened for bands such as Mike Watt, Cheap Trick, Joan Jett, Seaweed and Jawbox. They received national exposure with a FOX Baseball commercial with Lenny Dykstra singing a punk version of "Take Me Out to the Ballgame".
In 2003, Joe Popp Band and The Vodkanauts played the first New World Brewery fundraiser – Jobsite Rocks! Due to its impressive success, Jobsite and Joe Popp have since been anxious to reunite for another live music fundraiser.
Can't Make It?
All donations are tax deductible to the extent provided by law. Jobsite will also offer receipts to anyone requesting them for their records at the event.
Share: