UPDATED SEP. 7: The health and safety of our guests, artists, and staff is our top priority. Our re-opening process has been slow, methodical, and done in partnership with the Straz as well as medical and scientific experts.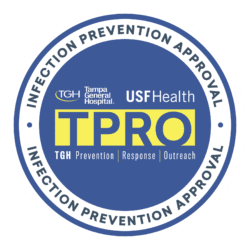 The Straz Center has received a seal of approval from Tampa General Hospital's consulting service, TGH Prevention Response Outreach (TPRO), for our campus-wide reopening protocols.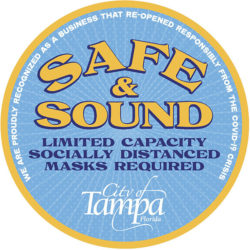 Jobsite has also been recognized by the City of Tampa as a Safe & Sound venue, a program for businesses committed to operating safely by following CDC guidelines during this time.
Straz Center health and safety policies are publicly posted and must be observed by all guests. Watch this space for updates.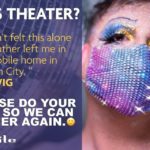 Jobsite's stance? We believe everyone who is eligible/able to receive the COVID-19 vaccination should do so, masks help save lives (even though no one actually likes to wear them), and IF YOU ARE SICK — STAY HOME. We will happily exchange your tickets to another night rather than risk you bringing something into the theater.
Testing and masks
All attendees ages five and up must show proof of a negative COVID-19 test certified by a test provider to gain entrance to all performances at the Straz Center. A CDC vaccination card proving an individual is fully vaccinated may be voluntarily presented at the door as an alternative to a negative COVID test result. Photo ID must accompany presentation of vaccination card or test results. Both physical and electronic presentation of vaccination cards and test results will be accepted. You may read more about the Straz testing policy here, and FAQs specific to the testing policy here.
Masks are required indoors at all times for all guests and staff — including the full duration of the performance. Patrons who remove their mask will be asked to replace it or be ejected from the theater. 
Facilities
To better protect everyone we have moved from the smaller Shimberg Playhouse into the much larger Jaeb Theater through the end of Feb., 2022, a space that makes it easier to do our absolute best for everyone — guests, artists, and staff.
The current plan is to open the 2021-22 season at 80% capacity — removing the front row of tables, the balcony and mezzanine boxes closest to the stage, and other select locations.
The theater is thoroughly sanitized before and after every performance.
HVAC enhancements include all-new filtration with the installation of recommended MERV-13 filters, bipolar ionization, renovation of outside air dampers and the implementation of humidity and CO2 sensors.
Food and drink is only permitted outside the theater so that masks can be worn for the duration of the performance. 
Paperless ticketing and programs are available in the Straz Center's free app (iOS or Android), and we prefer cashless transactions on site.
Complimentary hand sanitizer is available throughout the Straz campus.
Touch-free fixtures in all restrooms.
Behind the scenes
Jobsite only contracts fully-vaccinated workers for both on and off-stage positions. We conduct rigorous interviews with all potential workers that cover living, work, and other situations to ensure the safest environment possible. If you would like to learn more about how Jobsite is creating theater in a safe and responsible way, let us know!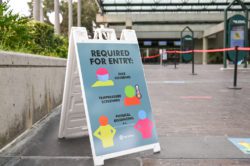 Health professionals from the Cleveland Clinic, Tampa General Hospital, and the Rodham Institute at George Washington University assisted in the developing the "living handbook" guiding our efforts. Other resources include the Centers for Disease Control and Prevention, OSHA, Johns Hopkins Coronavirus Resource Center, and the World Health Organization.
We sincerely appreciate everyone who has written in to tell us how much they appreciate the rigor we maintain with our practices and how safe they feel during their visit.  This email was particularly meaningful:
I'm a doctor on the covid unit at Tampa General so I've seen the worst of what this virus can do and have been very selective about what events I attend. Jobsite has done a phenomenal job with safety protocols. My husband and I sat in the mezzanine and we were at least 10 feet from the nearest guests and staff. Of the handful of events I've attended Jobsite has done the best job enforcing physical distancing and mask wearing. 

 

You are welcome to use my comments as testimonial, you're really doing an excellent job. – Jennifer Caputo-Seidler
Thank you for acting as our partners by following all protocols during your visit and by continuing to heed scientific and medical experts in the pursuit of your daily lives.
We're in this together,