Vanya and Sonia and Masha and Spike
By Christopher Durang
Directed by Paul J. Potenza
Feb. 26 – Mar. 26, 2016
Thu. – Sat. 8pm, Sun. 4pm
Tickets: $28
Preview Performances: Feb. 24 – 25 | Wed. – Thr. 8pm | Tickets: $14
Shimberg Playhouse, Straz Center for the Performing Arts
Media
Cast & Crew
Patron Reviews
Season
This production is dedicated to the memory of Rachel Anne Lisi.
2013 Tony Award winner for Best Play!
A send-up of Chekov's plays so hilarious on its own merit that it doesn't even matter if you think Chekov is just the name of that Russian guy on Star Trek!
"Broad comic acting is raised to the level of high art … deliriously funny." – New York Times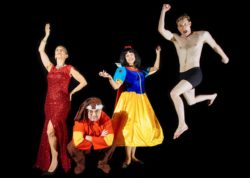 Middle-aged siblings Vanya and Sonia share a home in Bucks County, PA, where they bicker and complain about the circumstances of their lives. Suddenly, their movie-star sister, Masha, swoops in with her new boy toy, Spike.
Also on the scene are sassy maid Cassandra, who can predict the future, and a lovely young aspiring actress named Nina, whose prettiness somewhat worries the imperious Masha. Old resentments flare up, and the family crisis peaks just in time for the big party.
"…riotous … the show's a ton of fun even if you can't tell your Seagull from your Uncle Vanya… This is the kind of full-on comedy that's sadly rare on Broadway." – New York Post
Previews
'Vanya and Sonia and Masha and Spike' opens at Straz with outlandish characters, hilarious monologues – Tampa Tribune
Paul J. Potenza – Director
Cast
Emily Belvo – Nina
Elizabeth Fendrick – Masha
Jamie Jones – Spike
Jonelle Meyer – Cassandra
Roz Potenza – Sonia
Brian Shea – Vanya
Matthew Ray – Production Stage Manager
Tiffany Daiber – Rehearsal Stage Manager
Crew
Patrick Barnhart – Lighting Assistant Intern
Ryan E. Finzelbar – Lighting Designer
David M. Jenkins – Sound Designer
Amara Manickchand – Associate Lighting Designer
Brittany Reuther – Costume Designer
Brian M. Smallheer – Scenic Designer
Via Email
I found the performances by the entire cast to be sharp, cohesive, and funny and every bit the equal of the Tony Award winner…. The Director (Paul Potenza) should be applauded for his work with this entertaining cast. The nostalgic soliloquy given by Vania (Brian Shea) was magnificent. It nearly brought tears to my eyes. After her first appearance on stage, every time Cassandra (Jonelle Myer) appeared I laughed, even before she delivered her lines which warranted the laughter…. Anyone that likes comedic plays should DEFINITELY see this show. They won't be disappointed. – Michael T. Creaney
Via Facebook
Delightful! Do I yourself a favor and spend an evening with this bunch. – Rose Rosen
Excellent performances all around. the Brian Shea meltdown and the Roz Potenza phone scene were standouts, but Jonelle and the others were beyond terrific. Go see the show…recent Tony award for best play…and deservedly so. – Hal Freedman
Kudos to Paul Potenza and his zannis: Brian Shea, Roz Potenza, Elizabeth Fendrick, Jamie Jones, Emily Belvo, and Jonelle Marie Meyer. Lovely (and funny) work, beautiful show. – C. David Frankel
Awesome show, great job! – Meghan Fraser-Elvira
They are awesome! – Susan Belvo
Attended last Thursday performance. Good work by all. – Petrus Antonius
Great show – fabulous performances all the way around! – Karen Meyer Buesing
Saw this last Friday; this cast – superb! Very few moments of the show I wasn't laughing hysterically or smiling. Highly recommended! – Ryan Sturm
A Must See – truly lots of fun and such great local talent – let's support Tampa talent! – Brenda French Trayner
Loved it! Funny script handled by terrific actors and an outstanding director. – Murray Mintz
Absolutely loved the show. The acting was superb. – Michael Mitcham
Blog Us
Want to add a groovy graphic like this to your blog or website?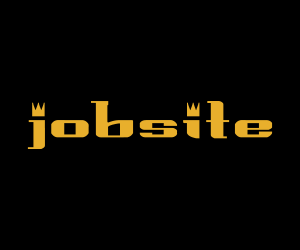 Jobsite provides a variety of cool banners that you can put on your website. AND they update automatically. So just drop it in once, and when we're ready for our next show, we'll update the graphic, and it'll automatically update on your site too!
Via Twitter
What a wonderful time and a really fantastic show. – @lisah
We had a wonderful evening. – @critus
Such a fun night and a great show as always at the @jobsitetheater – @peas4luck
LOVED Vanya @BrianSheaActor and Sonia #RozPotenza and Masha @EGFendrick and Spike @ArtofJamieJones! @jobsitetheater – @Julie_in_FL
Congrats to the folks over at @jobsitetheater for a fun afternoon of theatre. Some of the best work happening in Tampa. #Tampa #Theatre – @BeRyanArthur
Fun performances by all-runs only to Mar 20 #dontmissit – @CarlynKB
So hilariously funny!! – @CGorman
Laughed tons at @jobsitetheater latest of Vanya et al. Cannot say enough about how well Jones & Meyer made ridiculous characters fun & real! – @ladriaan
Great work all around @jobsitetheater tonight. Still can't decide what my favorite part was – @HoopSwoop
Share: